Story
Working Together: To Change Lives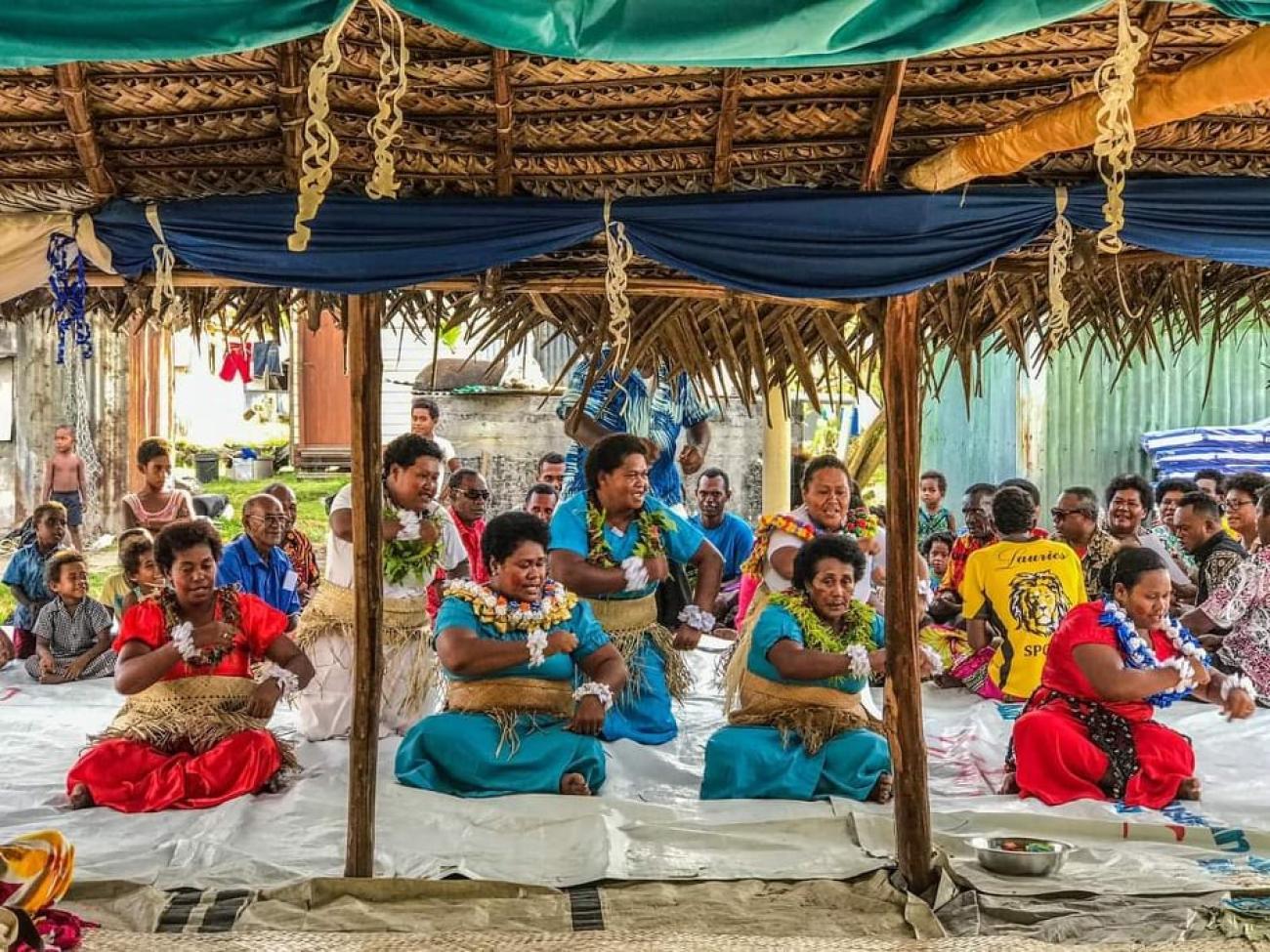 The Joint mission was reinforced with the collective and collaborative efforts of stakeholders providing practical, immediate and sustainable solutions.
Savenaca Waqabaca, has a visual impairment, is 21 years old and lives on Moce Island, which is about 325 kilometers from the capital of Fiji, Suva and is about ten square kilometers in size. The Lau group extends about 250 km north to south of which Moce, is one of the easternmost islands in the group.
Savenaca attended the Fiji School of the Blind in Suva for his primary education and currently lives with his grandmother, parents and two brothers in the village and is a fifth former at Moce Secondary School. When talking with Savenaca, he shared some challenges faced with his learning expressing the need to have his learning program "Narrator" upgraded. "My challenge is not having a sighted guide and I want JAWS installed on my computer," he said.
Using a sighted guide allows individuals who are blind or visual impaired, a comfortable way to travel safely in any environment. The sighted guide technique is felt to be the most efficient way for a person who is blind or visual impairment to travel with a sighted person. The sighted guide gives verbal cue ("take my arm/wrist") and/or nonverbal cue (touching the back of the person who is blind's hand with the back of the guide's hand).
JAWS, J ob A ccess W ith S peech, is a software developed for computer users whose vision loss prevents them from seeing screen content or navigating with a mouse. It enables a blind or visually impaired user to read the text that is displayed on the computer screen with a speech synthesizer or braille display.
Upon meeting Save on their recent visit to the Lau Group, the UN team organized the assistance of Telecom Fiji, who was part of the Joint Mission enabling Savenaca to download the JAWS software now greatly aiding his learning and further enabling his teachers to effectively assist him with his education and learning.
Save is one of the great examples of lives of people in the islands of Cicia, Nayau, Vanuavatu, Lakeba, Oneata, Moce and Komo that have been impacted with the recent Joint Mission to the Central Lau Group from the 15th to the 21st of February.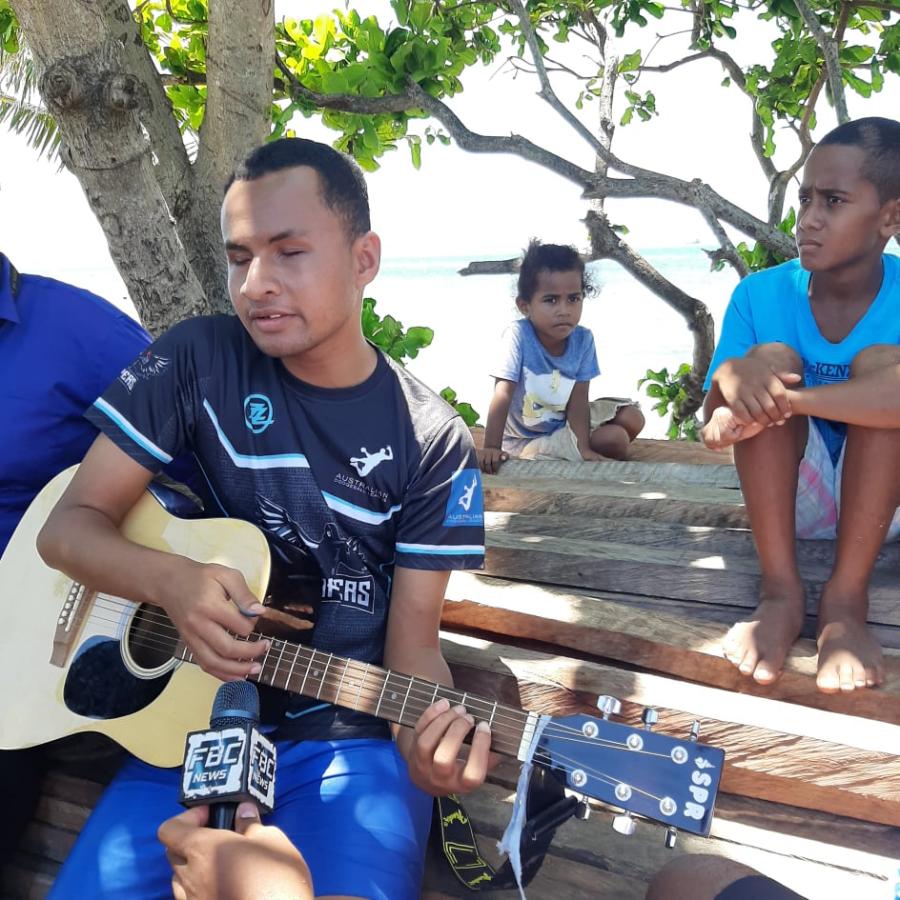 The mission organized by the UN was to prioritize detailed assessments into these islands after the devastation of Tropical Cyclones Yasa and Ana mobilizing 9 UN agencies, 13 Government ministries, 7 Non-governmental organisations (NGOs) and Civil Society Organisations along with 3 private sector partners and 3 media partners visiting seven islands, ten villages in a span of seven days.
Delegates of the mission witnessed communities that were isolated and on the frontline of climate change and yet were resilient to climate-related disasters. In the 13 schools visited, representatives from the Ministry of Education, Department of Energy and development partners conducted disaster risk reduction, infrastructure and damage assessments including child protection assessment post disaster. There were distributions of school bags by Save the Children Fiji and stationary packs distributed by KPMG to two schools in the islands of Cicia and Lakeba.
The mission was reinforced with the collective and collaborative efforts of stakeholders providing practical, immediate and sustainable solutions. "We are here to listen to the people. They know their environment and their challenges better than anybody. There is an exchange happening here," said Gerard Gomez, Head of Office, a.i, OCHA Pacific office. There were 163 women consulted for the National Action Plan against violence against women led by Minister Mereseini Vuniwaqa, Minister for Women, Children and Poverty Alleviation and Sai Prema Foundation distributed food and non-consumables distributed to 700 households.
For the 3,700 people visited, there were smiles all around when surgical services like circumcisions, jadelle and lipoma (lump) removals was offered right to their doorsteps. Sixty-six people in these seven islands didn't have to spend hundreds, and sometimes thousands of dollars to travel to the main islands to access these surgical services with the inclusion of the surgical team from Suva's Colonial War Memorial Hospital. "When in outreach we save a lot more than these people coming into the city. When we see one patient, that one patient has to save up his transport (by air or sea), accommodation expenses etc. - so for us conducting a simple surgery, saves people, a lot of time, effort and money," said Dr Sela Koyamaibole.  "Coming to the Lau group and providing these surgeries is a major help as it only has helped the villagers with their income especially after the cyclone  but also help the ministry as a whole because  if we have to evacuate only one case, it would cost us about $40-50k," he said.
 The visit focused on the most vulnerable groups, with organisations of Persons with Disability and representatives from the Ministry of Social Welfare and the Fiji Council of Social Services assessing a total of 63 cases (these include the elderly, disabled and children) with social protection payments to be disbursed. Additionally, assistive devices were provided in the form of wheelchairs, walkers, white canes, hearing aids to 50 persons with disabilities.
Fishing is  a staple and source of livelihood for the communities in Lau and with the recent launch of UN's Central Emergency Response Fund [CERF] project, consultations and priority was on the vulnerable subsistence farmers and fishers affected by TC Yasa, especially those from female-headed households and households with persons with disability. The six-month project intends to support the restoration and resilience of food security and livelihoods of 2,200 farming households and fishing capacity of 1,382 households, as well as aquaculture and mariculture operations in five communities.
As development practitioners, what stood out was the need to link policy with reality, and to provide communities with the right tools to assist them in developing and implementing their own solutions. "I'm reviewing our internal deployment soon after TC Yasa, Ana and Bina following this visit," says Mr David Kolitagane, Permanent Secretary for Rural and Maritime Development and Disaster Management. "Sea transportation and communication has been the main issues emerging from the talanoa sessions with the community and we hope to discuss possible solutions for our maritime islands with the UN and development partners."
Also onboard the Joint Mission, Jamie Davies of the Secretariat of the Pacific Regional Environment Programme (SPREP) said, "We have a particular interest in coming to the Lau islands, in relation to climate change resilience, looking at nature-based solutions- how is it that we can maintain and restore nature to help look after people. I noticed in Lakeba where mangroves were growing across the shoreline, the roads were in good condition, where there were no mangroves, the roads were being washed away. So these are some of the nature based solutions instead of putting a sea wall and hard engineering all it takes is planting mangroves that acts as a sea wall and creates food security."
The Joint Lau Mission is part of the UN in the Pacific's disaster recovery support following Tropical Cyclones Yasa and Ana. A Joint report of the Lau Trip will be shared with stakeholders in March with follow up actions and recommendations across the key sectors to be incorporated into the national Rural Integrated Development plans.
More information
How is the UN Supporting Recovery Efforts following TC Yasa
https://pacific.un.org/en/107988-how-un-supporting-recovery-efforts-following-tc-yasa
Building Back Better – Better Resilience
https://pacific.un.org/en/107801-tc-yasa-building-back-better-building-resilience
UN entities involved in this initiative
FAO
Food and Agriculture Organization of the United Nations
IOM
International Organization for Migration
UN Women
United Nations Entity for Gender Equality and the Empowerment of Women
UNDP
United Nations Development Programme
UNDRR
UN Office for Disaster Risk Reduction
UNDSS
United Nations Department of Safety and Security
UNICEF
United Nations Children's Fund