Vanuatu
Vanuatu is a culturally and linguistically diverse nation of 83 volcanic and coral islands in the South Pacific, located 1,750km east of northern Australia and 1,200km west of Fiji. Around 80% of Vanuatu's population of 299,882 people (World Bank, 2019) live in rural areas where subsistence livelihoods and traditional community welfare obligations provide an informal social safety net. Vanuatu has one of the highest population growth rates in the region, with growing demand for public services.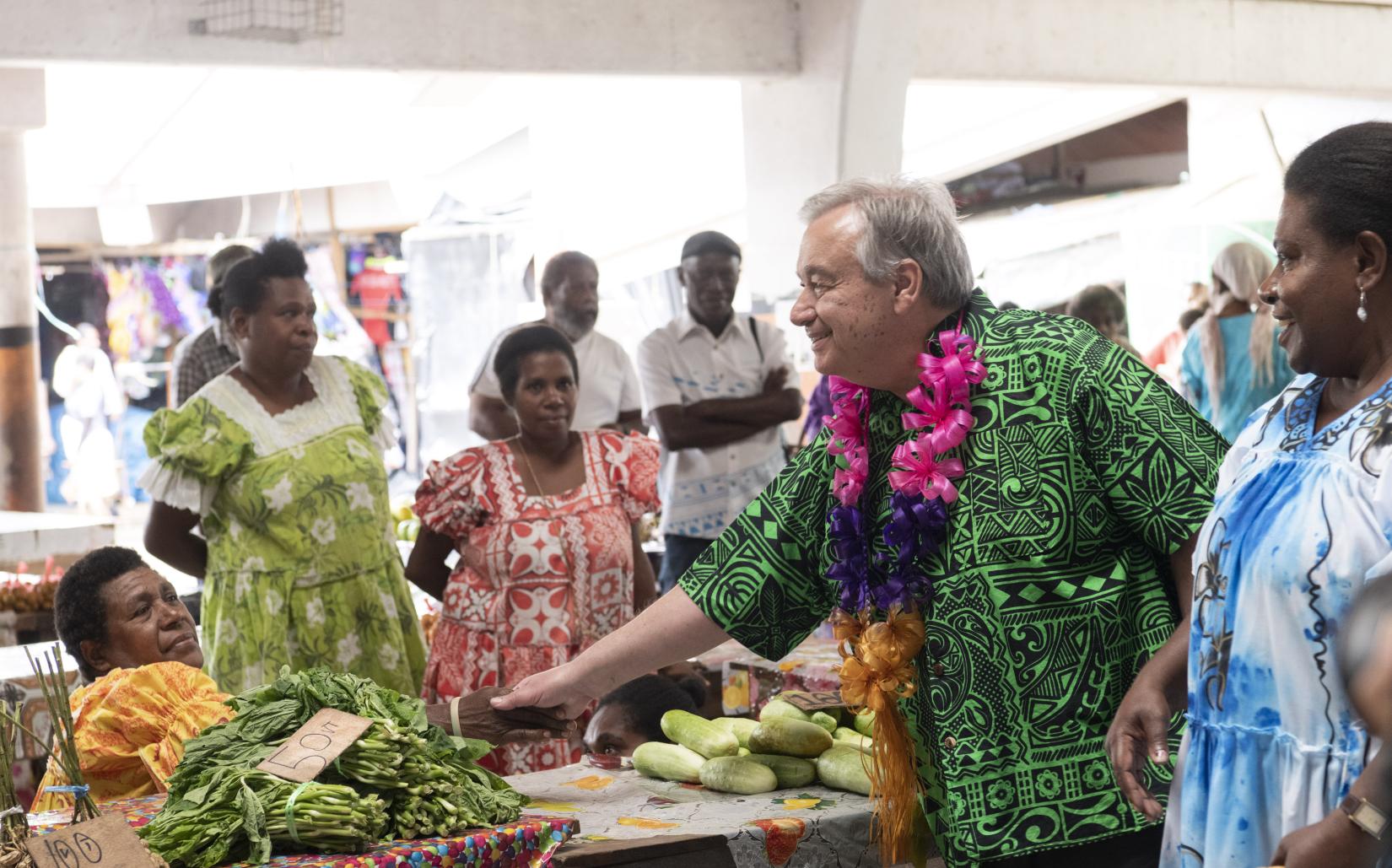 Overall, basic needs poverty is decreasing, however there are indications that hardship is growing for vulnerable groups, particularly in Luganville, the country's second largest city. Vanuatu is currently defined as a Least Developed Country, and is scheduled for graduation to Developing Country status in 2020. Vanuatu has been successful in achieving consistent economic growth, with a reliance on tourism, construction, and development assistance infrastructure projects. Over half of Ni-Vanuatu are under 25 years old and there are high rates of unemployment.
Vanuatu is considered the world's most at-risk nation to natural disasters. In 2015, Tropical Cyclone (TC) Pam, one of the worst natural disasters ever to hit Vanuatu, caused widespread damage to 22 islands and 166,000 people (two thirds of the population) required urgent humanitarian assistance; followed by TC Harold in 2020. Severe weather events are expected to increase in frequency and intensity as a result of climate change and threaten the social and economic progress of Vanuatu.
Vanuatu has a mixed record on promoting gender equality, despite ratifying The Convention on the Elimination of all Forms of Discrimination Against Women. There are very low levels of women's representation in national, provincial, and municipal government, with no women national Members of Parliament. Labour force participation and access to post-secondary training are lower for women in urban and rural areas, and land tenure is patrilineal. Almost two thirds of women report experience of some form of gender-based violence.
UN presence in Vanuatu
The UN has been present in Vanuatu since 1984, with 18 agencies implementing programs: FAO, IAEA, IFAD, ILO, IOM, UNCDF, UNCTAD, UNDP, UN Environment, UNESCO, UNFPA, UNICEF, UNISDR, UNOCHA, UN Women, WFP, WHO and WMO.
Development goals and objectives
The United Nations Pacific Strategy (UNPS) 2018-2022 is a five year strategic framework that outlines the collective response of the UN system to the development priorities in 14 Pacific Island countries and territories, including Vanuatu, and supports governments and peoples in the Pacific to advance a localised response to the global 2030 Agenda for Sustainable Development. The UNPS complements the Vanuatu 2030: "The People's Plan"; particularly in the areas of environment and natural resource management, economic development, gender and social inclusion, health, education, water and sanitation, and governance.
Tropical Cyclone Harold
Category 5 TC Harold made landfall in Vanuatu on 6 April 2020 with up to 300km/hour winds; making it the strongest cyclone to hit Vanuatu in five years and the strongest ever to make landfall on the nation's largest island, Espiritu Santo. TC Harold caused widespread damage, killing three people and temporarily displacing over 18,000 people who took shelter in 272 evacuation centres. Assessments indicated significant damage to shelter, schools, medical centres, agricultural crops, power and telecommunications, and loss of medical supplies; with an estimated 26,359 households (43% of the population) impacted. A total of 21,086 houses were damaged to some extent, with 5,272 completely destroyed.
COVID-19 pandemic
Vanuatu is one of only 10 countries globally that has no confirmed cases of COVID-19. A National State of Emergency was first declared on 26 March 2020 with restrictions on social gatherings and a curfew on people's movement and business operations. The State of Emergency has now been extended to 31 December 2020. While international borders remain closed, restrictions have been relaxed with emphasis placed on good hygiene practice. The pandemic has been catastrophic for Vanuatu's economy, with significant impacts to Vanuatu's tourism and services export sectors. A survey by the Vanuatu Tourism Office a 70% reduction in full time employment and a 33% reduction in part-time employment.
The UN's system-wide and multi-sectoral approach provides a coordinated and comprehensive response that complements the Vanuatu government's COVID-19 Preparedness and Response Plan through three targeted components.
Health response: stop virus transmission and care for affected people Guided by the regional Joint Incident Management Team; the UN, led by WHO, is supporting Vanuatu to prepare for COVID-19 identification, mitigation and containment including: technical assistance to government partners, procurement of medical supplies and personal protective equipment (PPE), capacity building of healthcare staff, and risk communications and community engagement. WHO and UNICEF procured two GeneXpert machines, 320 cartridges and 21,300 pieces of PPE. Further supplies are being procured through the global COVID-19 Supply Chain System established by the UN Secretary-General's Supply Chain Task Force. WHO established one National Emergency Operations Centre and one quarantine facility, and deployed five technical officers to support surveillance, case management, and infection and prevention control. UNICEF trained 631 community mobilisers and youth volunteers on COVID-19 communications, reaching 6,700 people.
Humanitarian response: address immediate multi-sectoral needs Under the Pacific Humanitarian Response Plan the UN is supporting Vanuatu to respond to urgent humanitarian needs of those impacted by the COVID-19 pandemic and TC Harold. Priority needs in Vanuatu include emergency shelter, education, telecommunications, food security and livelihoods, safe water and sanitation, and protecting women and girls at increased risk of gender-based violence. IOM provided safe and dignified shelter for 4,000 people through the distribution of emergency shelter kits. UNICEF increased access to safe water and sanitation for 2,105 people, and provided school-in-a-box education kits to 2,080 children to continue their education. FAO distributed seeds and tools to 6,556 people to improve food security. UNICEF provided essential nutritional supplements to 40,000 children and 700 pregnant and lactating women.
Socio-economic response: address immediate social and economic impact The UN reprogrammed US$10.7 million (38%) of programs and activities from a total of US$28.5 million from the 2020 UN Vanuatu Joint Country Action Plan to increase support for the response to COVID-19, in consultation with the Vanuatu government. A planned socio-economic impact assessment will identify vulnerabilities in Vanuatu across five pillars of the UN Framework for the Immediate Socio-Economic Response to COVID-19 to guide response plans for the next 12-18 months; including health, social protection and basic services, economic recovery, macroeconomic response and multilateral collaboration. A regional report will be completed for Vanuatu by September 2020. UNDP and UN Women received US$300,000 from the UN Secretary General's COVID-19 Response and Recovery Fund to support food security and enable marketplaces to continue to trade safely.