Solomon Islands
Solomon Islands is a Melanesian archipelago in the southwest Pacific Ocean comprising two volcanic chains of six major islands, and many hundreds of outer islands and atolls. A former British Protectorate, the Solomon Islands achieved independence in 1978. The population of 669,823 (World Bank, 2019) is young, dispersed, and multi-lingual. The majority of people live in rural areas and maintain subsistence livelihoods in villages of only a few hundred people.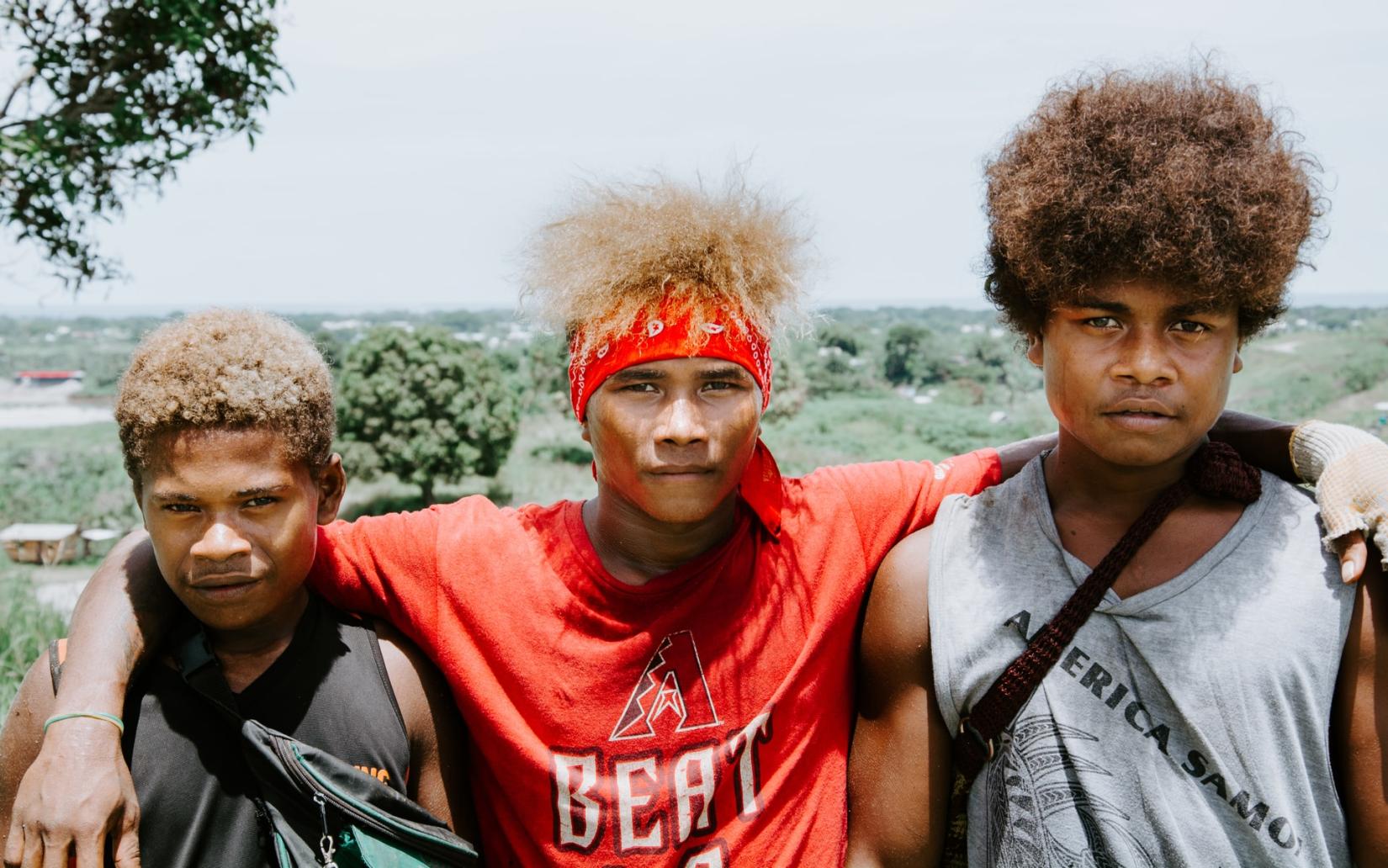 Solomon Islands is one of the poorest countries in the region with a low level of human development. Poverty and hardship in Solomon Islands is compounded by the legacy of civil conflict, known as "The Tensions" (1998-2003), which pushed the country to the brink of collapse. From 2003-2013, the Regional Assistance Mission to the Solomon Islands operated in the country with a mandate to restore law and order, rebuild the government, stabilise national finances, and restart the economy.
The economic performance of Solomon Islands has lagged behind other Pacific Island countries and territories (PICTs), and is reliant on development assistance and a few primary commodities. Youth unemployment is a major problem as young people lack the education and experience to find paid work. Rapid urbanisation is creating informal settlements and burdening local resources and infrastructure. Environmental sustainability is weak, particularly in the logging industry, which has been surrounded by allegations of illegality, abuse, and lack of environmental controls; and the country is also significantly affected by climate change.
Solomon Islands has a mixed record on promoting gender equality, despite ratifying The Convention on the Elimination of all Forms of Discrimination Against Women. Female enrolment in secondary and tertiary education is low and rural women have poor access to health and family planning. There is low participation of women in electoral processes, with three women national Members of Parliament. Almost two thirds of women report experiencing gender-based violence, and the sexual exploitation and abuse of children is common.
UN presence in Solomon Islands
The UN has been present in Solomon Islands since 1978, with 20 agencies implementing programs: FAO, IFAD, ILO, IOM, OHCHR, UNAIDS, UNCDF, UNDP, UN Environment, UNESCAP, UNFPA, UNICEF, UNESCO, UN-Habitat, UNISDR, UNOCHA, UN Women, WFP, WHO and WMO.
Development goals and objectives 
The United Nations Pacific Strategy (UNPS) 2018-2022 is a five year strategic framework that outlines the collective response of the UN system to the development priorities in 14 PICTs, including Solomon Islands, and supports governments and peoples in the Pacific to advance a localised response to the global 2030 Agenda for Sustainable Development. The UNPS complements the National Development Strategy 2016-2035 "Improving the Social and Economic Livelihoods of all Solomon Islands"; particularly in the areas of environment and natural resource management, disaster risk reduction, economic development, food security, health, education, and governance. 
Tropical Cyclone Harold
Category 3 Tropical Cyclone (TC) Harold made landfall in Solomon Islands on 6 April 2020, killing 27 people who were swept overboard from a ferry during the storm. Assessments indicated damage to agricultural crops, food gardens, homes, buildings and roads.
COVID-19 pandemic
Solomon Islands is one of only 10 countries globally that has no confirmed cases of COVID-19. A State of Public Emergency was declared by the Solomon Islands government from 25 March to 25 July 2020. Some schools were closed, government services were scaled back, and there were restrictions on public gatherings. International flights are suspended and borders remain closed. Repatriation efforts of Solomon Island citizens have commenced.
The UN's system-wide and multi-sectoral approach provides a coordinated and comprehensive response that complements the Solomon Island government's COVID-19 Preparedness and Response Plan through three targeted components.
Health response: stop virus transmission and care for affected people Guided by the regional Joint Incident Management Team; the UN, led by WHO, is supporting Solomon Islands to prepare for COVID-19 identification, mitigation and containment including: technical assistance to government partners, procurement of medical supplies and personal protective equipment (PPE), capacity building of healthcare staff, and risk communications and community engagement. WHO and UNICEF procured two GeneXpert machines, 166 testing kits and 40,565 pieces of PPE. Further supplies are being procured through the global COVID-19 Supply Chain System established by the UN Secretary-General's Supply Chain Task Force. WHO and UNICEF supported upgrades to the National Referral Hospital laboratory, triage and isolation ward. WHO deployed three technical officers to support isolation and quarantine facilities, preparedness and response, risk communications and training.
Humanitarian response: address immediate multi-sectoral needs Under the Pacific Humanitarian Response Plan  the UN is supporting Solomon Islands to respond to urgent humanitarian needs of those impacted by the COVID-19 pandemic and TC Harold. Priority needs in Solomon Islands include education, emergency telecommunications, food security and livelihoods, safe water and sanitation, and protecting women and girls at increased risk of gender-based violence. UNDP, in partnership with DFAT and the Ministry of Agriculture and Livestock, strengthened the food security of 340 households by providing seeds and tools. UNFPA, in partnership with Solomon Islands Planned Parenthood Association, surveyed 119 young people on their experience of COVID-19. UNICEF provided essential nutritional supplements to 93,000 children, and 4,000 pregnant and lactating women. 
Socio-economic response: address immediate social and economic impact The UN reprogrammed US$5.8 million (28%) of programs and activities from a total of US$20.8 million from the 2020 UN Solomon Islands Joint Country Action Plan to increase support for the response to COVID-19, in consultation with the Solomon Islands government. A planned socio-economic impact assessment will identify vulnerabilities in Solomon Islands across five pillars of the UN Framework for the Immediate Socio-Economic Response to COVID-19 to guide response plans for the next 12-18 months; including health, social protection and basic services, economic recovery, macroeconomic response and multilateral collaboration. A regional report will be completed for Solomon Islands by September 2020. UNCDF, UNDP, ILO and UN Women received US$300,000 from the UN Secretary General's COVID-19 Response and Recovery Fund to support livelihoods and food security in marketplaces and supply chains.