Fiji
Fiji is a multi-ethnic nation of more than 800 volcanic islands and islets located in the South Pacific Ocean, with a population of 889,953 people (World Bank, 2019). A former British colony, Fiji achieved independence in 1970, but has faced decades of political, economic, and social instability. Democratic elections were held in 2014 and the new government is committed to inclusive and equitable growth. Most of the population resides on the islands of Viti Levu and Vanua Levu, and rapid urbanisation has led to the emergence of more than 200 squatter settlements in and around the urban centres of Suva and Nasinu.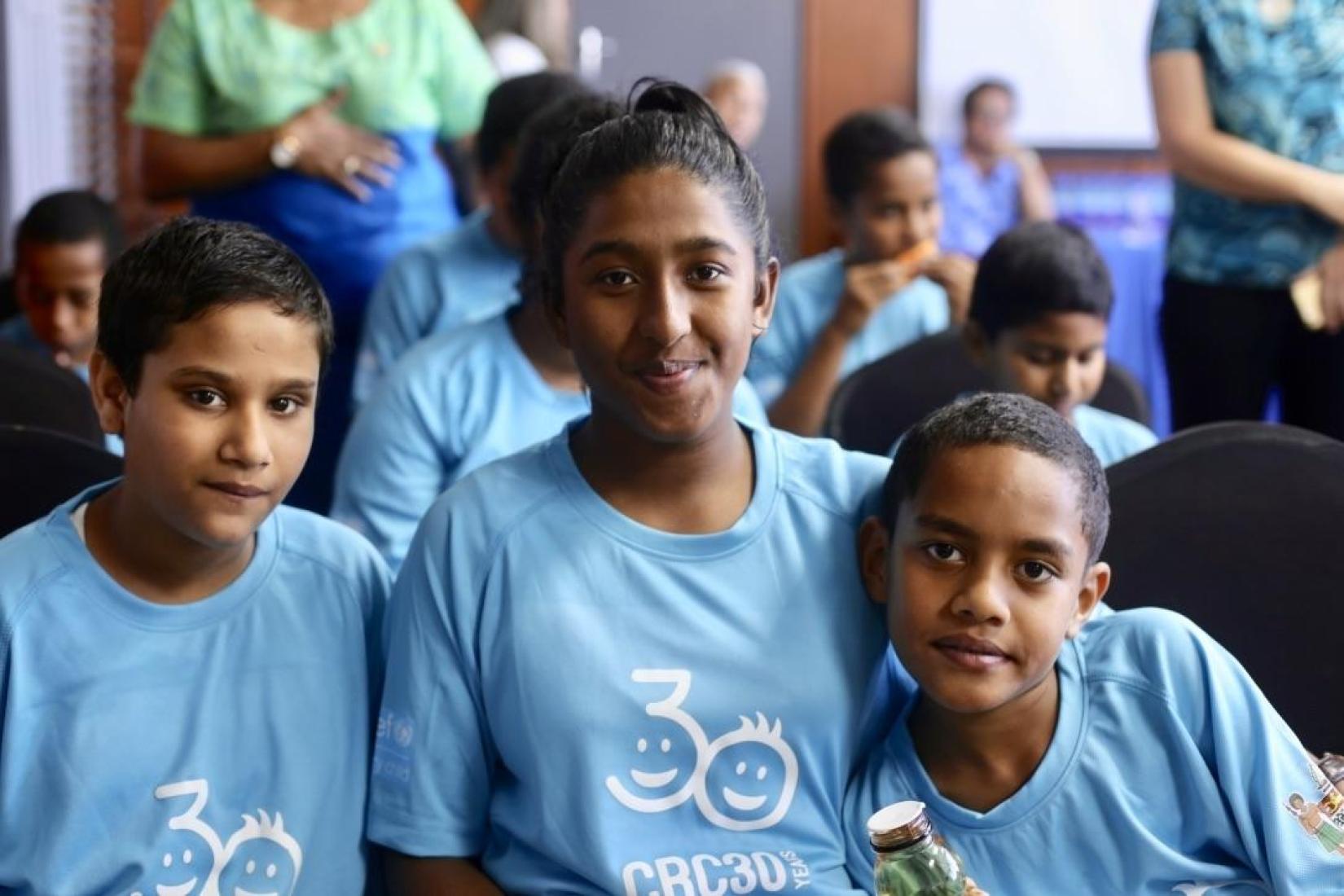 Fiji has a relatively high level of human development; although a third of the population live below the basic needs poverty line, and hardship and inequality are rising. Fiji has an informal social protection system (veiwekani), which helps provide basic needs to individuals and groups. However, high levels of internal and overseas migration and the transition from a subsistence to market-based economy are undermining traditional support systems. The Fijian economy has had a period of sustained growth, and is primarily reliant on tourism, overseas remittances, transport, and sugar exports. More than half of Fijians are employed in the informal sector, predominantly in agriculture, and there are high rates of youth unemployment. 
Fiji is disproportionally affected by climate change and was the first country to ratify the Paris Agreement in 2015. In 2016, Fiji experienced two severe natural disasters with damage totalling more than a third of the country's gross domestic product.
Fiji has a mixed record on promoting gender equality, despite ratifying The Convention on the Elimination of all Forms of Discrimination Against Women. Most women are employed in the informal sector and earn less than men. Fiji has one of the highest proportions of elected female representatives, with 10 women national Members of Parliament. Two out of three women report experiencing gender-based violence.
UN presence in Fiji
The UN has been present in Fiji since 1984, with 18 agencies implementing programs: FAO, IFAD, ILO, IOM, OHCHR, UNAIDS, UNCDF, UNDP, UNESCAP, UNESCO, UNFPA, UN-Habitat, UNICEF, UNISDR, UNOCHA, UN Women, WHO and WMO.
Development goals and objectives 
The United Nations Pacific Strategy (UNPS) 2018-2022 is a five year strategic framework that outlines the collective response of the UN system to the development priorities in 14 Pacific Island countries and territories, including Fiji, and supports governments and peoples in the Pacific to advance a localised response to the global 2030 Agenda for Sustainable Development. The UNPS complements the Fiji National Development Plan 2017-2036: "Transforming Fiji"; particularly in the areas of environment and natural resource management, gender, social and community development, health, education, governance, and human rights.
Tropical Cyclone Harold
Category 5 Tropical Cyclone (TC) Harold made landfall in Fiji on 8 April 2020, with winds of up to 200km/hour. More than 180,000 Fijians were affected, and assessments indicated significant damage to homes, agricultural crops, infrastructure, schools and health centres. Nationwide, 917 homes were completely destroyed, with a further 2,629 severely damaged. A State of Natural Disaster was declared by the Fiji government on 13 April 2020.
COVID-19 pandemic
Fiji is one of several Pacific Island countries and territories with confirmed cases of COVID-19.
As of September 30, 2021, Fiji has recorded a total of 51,023 cases of COVID-19 since the first case was reported in March 2020. There have been 624 deaths due to COVID-19 in Fiji, with 622 of these occurring during the outbreak that started in April 2021.  
At the beginning of the pandemic, schools closed and nationwide curfews and restrictions on recreational activities and large gatherings were introduced. TC Harold and COVID-19 have had a catastrophic impact on Fiji's tourism economy.
On December 1, 2021, international flights from specific approved countries begun travelling to Fiji again, as the country's vaccination rates are exceptionally high - 95.8% of adults have received at least one dose, and 72.5% are now fully vaccinated nationwide.
The UN's system-wide and multi-sectoral approach provides a coordinated and comprehensive response that complements the Fiji government's COVID-19 Preparedness and Response Plan through three targeted components.
Health response: stop virus transmission and care for affected people Guided by the regional Joint Incident Management Team; the UN, led by WHO, is supporting Fiji to prepare for COVID-19 identification, mitigation and containment including: technical assistance to government partners, procurement of medical supplies and personal protective equipment (PPE), capacity building of healthcare staff, and risk communications and community engagement. WHO and UNICEF procured two GeneXpert machines, 270 testing kits and 32,010 pieces of PPE. Further supplies are being procured through global COVID-19 Supply Chain System established by the UN Secretary-General's Supply Chain Task Force. WHO deployed one technical officer to the Fiji National Incident Management Team to support with outbreak management and establishing emergency operations centres and incident management systems. UN agencies have also supported the development, printing and dissemination of risk communication materials about COVID-19 transmission prevention in Fiji.
Humanitarian response: address immediate multi-sectoral needs Under the Pacific Humanitarian Response Plan  the UN is supporting Fiji to respond to urgent humanitarian needs of those impacted by TC Harold and the COVID-19 pandemic. Priority needs in Fiji include emergency shelter, education, telecommunications, food security and livelihoods, safe water and sanitation, and protecting women and girls at increased risk of gender-based violence. UNICEF increased access to safe water and sanitation through the provision of 50 permanent foot-operated handwashing taps and 100 portable handwashing stations in health facilities; and provided essential nutritional supplements to 79,000 children and 5,000 pregnant and lactating women.
Socio-economic response: address immediate social and economic impact The UN reprogrammed US$10.5 million (39%) of programs and activities from a total of US$27.4 million from the 2020 UN Fiji Joint Country Action Plan to increase support for the response to COVID-19, in consultation with the Fiji government. A socio-economic impact assessment has identified vulnerabilities in Fiji across five pillars of the UN Framework for the Immediate Socio-Economic Response to COVID-19 to guide response plans for the next 12-18 months; including health, social protection and basic services, economic recovery, macroeconomic response and multilateral collaboration. A country report was completed for Fiji in August 2020. IOM, UNICEF, WFP and WHO received US$1 million from the UN Central Emergency Relief Fund for humanitarian priorities.