Story
FAITH BASED ORGANISATIONS' COMMITMENT TO ENDING VIOLENCE AGAINST WOMEN AND GIRLS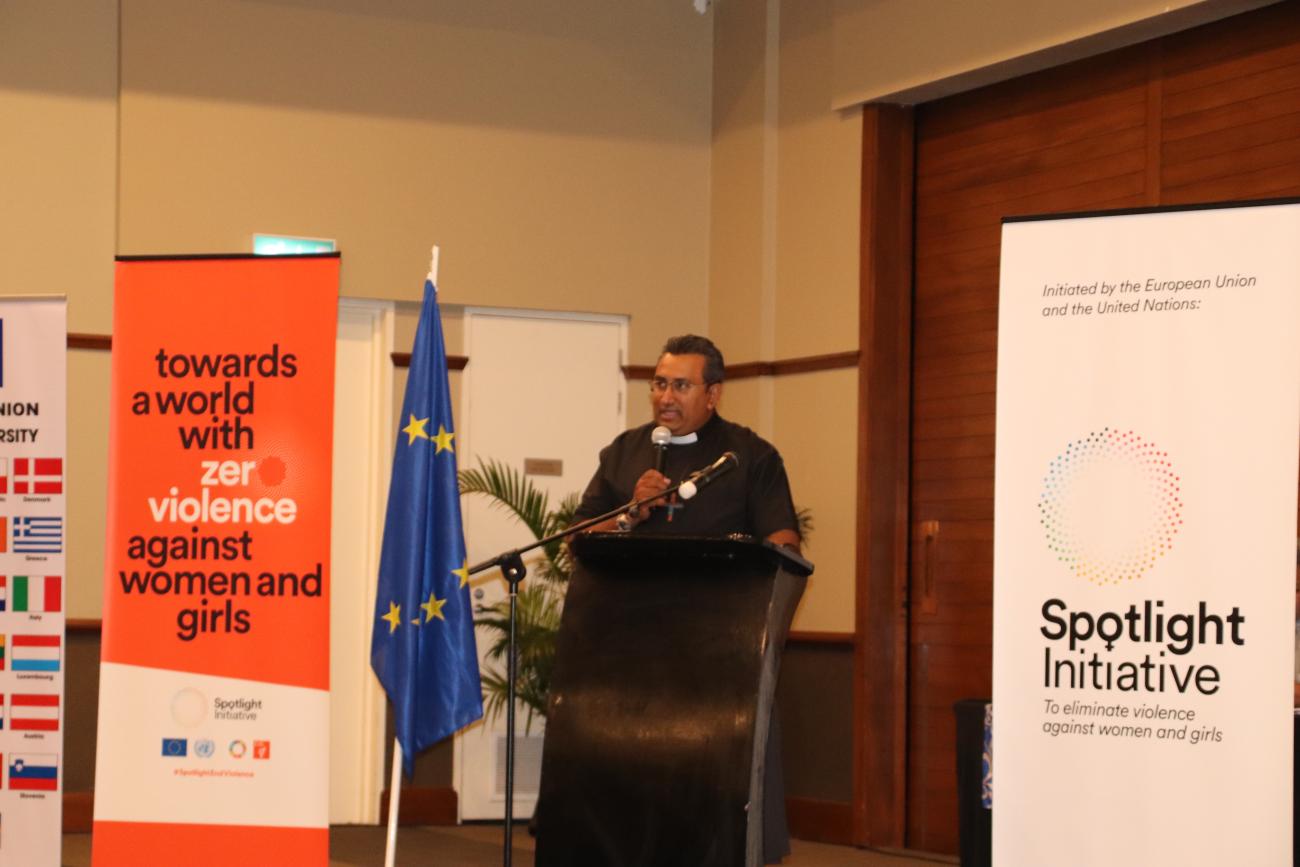 All over the world faith based organisations play a critical role in changing behaviours and attitudes in any society. The Pacific is no different
All over the world faith based organisations play a critical role in changing behaviours and attitudes in any society. The Pacific is no different and engaging the church to end gender-based violence and violence against children has had its challenges.
"We face the challenge that patriarchal attitudes and structural violence has been ingrained and reinforced in our culture and religious practice," said General Secretary of the Pacific Conference of Churches (PCC), Reverend James Bhagwan at the launch of Spotlight Initiative's Pacific Regional Programme in October 2020. "There is also a confrontational approach in engaging the church, in a region where over 90 per cent of the population identify as Christian and hold a worldview shaped by their faith, as agents of social transformation."
"As Churches, we have confessed our negative contribution to the structural violence enacted upon women of all ages and social status in the Pacific. Patriarchal structures of leadership and decision-making, biblical interpretation and attitudes towards women in faith communities have underpinned the psychological, emotional, physical, sexual and economic violence that Pacific women have had to endure."
Studies have shown that the Pacific region has some of the world's highest recorded rates of violence against women and girls, with almost 2 out of every 3 women impacted by physical or sexual violence in their lifetime - double the global average.
"UNICEF and UN Women are closely partnering together with PCC to collaborate on the Safe Churches for Women and Children framework, supported both by the Spotlight Initiative and the Pacific Partnership to End Violence against Women and Girls (EVAWG). The partnership aims to accelerate existing efforts of churches and faith-based organisations to be more accountable to their members and communities as safe spaces for women and children, as well as to recognise the strong interlinkages between violence against children and violence against women," said UNICEF Pacific's Child Protection Specialist, Katie Hodges.
"Studies have shown a strong association between men's perpetration of intimate partner violence (IPV) and inequitable gender attitudes in adulthood, and men's experience of violence and exposure to IPV in childhood. PCC's partnership will contribute significantly to the promotion of social and behaviour change towards gender-equitable, child-friendly and violence-free norms, within and through the church. The church plays a central role in the life of many Pacific Islanders and is engaging with the Spotlight Initiative as a key partner for advancing these positive social norms in the community."
In 2019, the PCC included a child protection framework in their 2020-2024 Strategic Plan and in 2020 began planning and designing activities for three pilot countries - Republic of Marshall Islands, Solomon Islands and Fiji.
"Our goal is to support churches in their mission to become the safest institution for children in the Pacific. Some churches have child protection policies but there remains a need for more to be done around developing policies that provide deeper theological and biblical reflections around protecting what Christianity terms as God's precious gifts to us - the children," said PCC Child Protection Coordinator, Mariana Waqa.
"Our activities this year include a Training of Trainers programme in the three countries to test and verify child protection resources that are grounded on Christian messages and values. Furthermore, we are drafting a comprehensive Child Protection Policy which will incorporate Christian spirituality and Biblical principles that prioritise the urgency of protecting children from violence. For our team it is a process of bridging the gap between the secular and faith-based approach, without which none of the work around protecting children through the churches would be possible," said Ms. Waqa.
She continued that many challenges were encountered during the framework development in 2020. "Besides border closures that prevented us from traveling, there were cultural sensitivities around child abuse and violence being addressed through Pacific churches. Nevertheless, church leaders in all three countries have contributed towards and supported the development of the framework which was endorsed at the Pacific Church Leaders' Meeting last December. The implementation process is currently rolling out with UNICEF consultants working alongside the PCC team as we weave child protection into the fabric of Christian spirituality, theology, and Biblical interpretation."
There's certainly more work to be done in this space but as people commit to practise positive behaviours and to end violence against women and children, we can be sure of a satisfying outcome and a solid partnership. Particularly if they have been engaged from the very beginning.
"The Spotlight Initiative has partnered with PCC and its members from inception through design phase, utilising mixed methodologies for consultation and dialogue with individuals and member churches, ensuring that the process is led and guided by the members and not dictated by the programme. This has resulted in a stronger and more meaningful partnership," said Katie Hodges.
Knowing this, we look forward to the roll out of the programme in the pilot countries.
UN entities involved in this initiative
UN Women
United Nations Entity for Gender Equality and the Empowerment of Women
UNICEF
United Nations Children's Fund